Getting your picky eater to eat healthy foods can be a daily battle that you lose most times. But, allowing your child to eat only the unhealthy foods that they prefer can be detrimental to their growth and leave them with nutrient deficiencies in the future.
That's why you need to be a little creative when it comes to preparing the foods that they need to eat but that they don't want to.
In this post, I'll show you 4 quick recipes that you can prepare for dinner for picky eaters. These are delicious meals that you can put together in minutes, yet they're packed with important nutrients.
Simple Chicken Cordon Bleu Pasta Recipe
Chicken Cordon Bleu is a healthy meal, but it can be a hassle to make. But, with this simple chicken cordon bleu pasta recipe, it'll be ready in minutes.
You can serve it with garlic or whole wheat bread. Make it more exciting and nutritious with cheese, cucumber, or apple salad.
Prep Time: 10 Minutes
Cook Time: 15 Minutes
Total Time: 25 Minutes
Ingredients
25-ounce crispy chicken strips, frozen
12-ounce penne pasta
15-ounce Alfredo sauce, with garlic
5-ounce slices deli ham
½ cup parmesan cheese, shredded
Instructions
Preheat the oven to 175°C/350°F.
Using non-stick cooking spray, coat a baking dish.
On a large cutting board, pound the chicken strips to ¼-inch thickness using a meat tenderizer.
Sprinkle salt and pepper on each side of the chicken.
Place the chicken in a baking dish. Sprinkle breadcrumbs on the chicken evenly.
Put in the oven and bake for 30-35 minutes.
While the chicken cooks, boil pasta according to the package directions.
Cut up the ham in bite-size pieces and set aside.
When the chicken is no longer pink, remove from oven and cut into small sizes.
In a large mixing bowl, combine the chicken pieces, ham, sauce, and pasta. Stir gently to combine all ingredients thoroughly.
Sprinkle cheese and fresh parmesan on top.
Broccoli and Cheese Nuggets
If you have a hard time persuading your kids to eat broccoli, this is an ideal recipe for you. Most kids don't like broccoli or a lot of vegetables, for that matter.
But, if you try to cook them in a different way that they're not accustomed to, they might just warm up to them. This recipe allows you to cook broccoli as nuggets – which kids love!
These nuggets will look much different and even taste differently, and that can be enough to get your kid to eat a bit of broccoli.
Make sure to use a seasoning of your choice so that the nuggets will not be bland – which might make all your effort useless if your kid finds them tasteless.
Prep Time: 5 Minutes
Cook Time: 25 Minutes
Total Time: 30 Minutes
Ingredients
16-ounce thawed broccoli florets
3 eggs
1 cup cheddar cheese, shredded
1 cup breadcrumbs
2 tsps. seasoning mix
½ tsp garlic powder
¼ tsp salt
Instructions
Preheat the oven to 375°F.
Finely chop the broccoli florets or place them in a food processor and pulse until they're chopped into fine pieces.
Add breadcrumbs, eggs, cheese, and seasoning to the chopped broccoli and process some more until combined.
Place the vegetable mixture onto a baking sheet lined with parchment using a small cookie scoop. Press them down gently to attain the same height for each nugget.
Place in the oven and bake until the nugget tips are golden, for about 20-25 minutes.
Once golden, remove from oven and set them aside to cool down.
Refrigerate leftovers for up to 3 days in an airtight container.
You can make a gluten-free version of this recipe by replacing the breadcrumbs with gluten-free breadcrumbs. After that switch, follow the same instructions to prepare your gluten-free broccoli nuggets. All other ingredients remain the same.
To make a dairy-free version of the same recipe, you'll have to add two new ingredients, ⅓ cup of nutritional yeast and 1 teaspoon of yellow mustard. These are to replace the shredded cheddar used in the original recipe.
Add the yeast and mustard to the veggie mixture after processing the broccoli. Follow the same instructions as on the original recipe to prepare dairy-free broccoli nuggets.
Teriyaki Chicken Stir Fry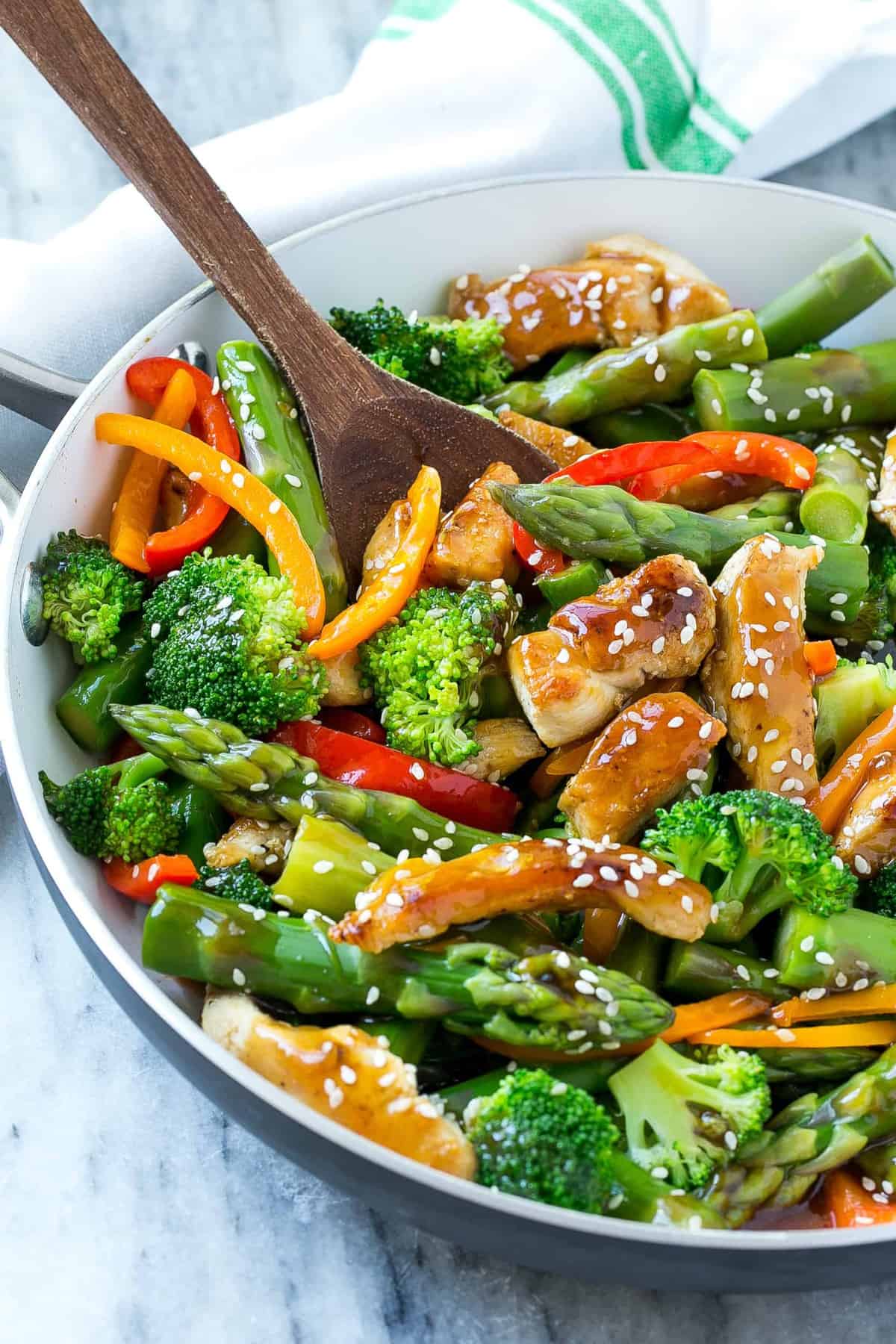 Teriyaki chicken is a favorite take out food, but it's not the healthiest when you get it from a restaurant. You can easily make it at home using healthier ingredients that your kid will enjoy.
For this recipe, use coconut aminos to replace soy sauce, which is used by restaurants. It's sweeter but contains less sodium. Replace the sugar with honey.
If you're trying to make a low-sugar dish, you can also use cauliflower rice instead of white rice. Brown rice is also perfect for this recipe.
Prep Time: 35 Minutes
Cook Time: 15 Minutes
Total Time: 50 Minutes
Yield: 4 Bowls
Ingredients
1½ pounds boneless skinless chicken thighs (or breasts)
½ cup coconut aminos
¼ cup honey
2 tbsps. oil
1 grated garlic clove
¼ tsp fresh ginger, grated
2 cups cooked white rice
Instructions
With a meat tenderizer, pound the chicken to ¼-inch thickness on a cutting board. Take the pounded chicken and place it in a large zip bag.
Whisk honey, coconut aminos, ginger, and garlic in a medium bowl.
When the sauce is ready, add to the chicken in the bag and seal, tossing to combine.
Keep the chicken in the refrigerator for 30 minutes to 2 hours to allow it to marinate. You can also leave it overnight if you want a stronger flavor.
Heat oil in a large skillet over medium heat.
Add the chicken to the skillet, work in batches, and cook every side for about 3 minutes each. Set aside a portion of the marinade.
Remove the chicken from the skillet when it becomes browned and has cooked through. Set it on a plate.
Take the reserved marinade and pour it on the skillet. Bring it to a low boil, lower the heat, and simmer for around 2 minutes. Wait until the sauce is thickened.
Remove the sauce skillet from heat and pour the chicken. Toss to combine the chicken with the sauce.
Serve with rice.
Ginger Soy Sauce Salmon
If your kid hates fish, here's a ginger soy sauce salmon recipe that they might love. It's prepared with roasted vegetables, so you'll also get them to eat veggies that they usually avoid.
It is a simple and short recipe that you can prepare in less than 40 minutes to get a delicious, healthy, and mouthwatering salmon dish that your picky kid might enjoy.
Prep Time: 10 Minutes
Cook Time: 22 Minutes
Total Time: 32 Minutes
Yield: 4 servings
Ingredients
4 5-ounce salmon fillets (each around 130g)
4 tbsp. soy sauce
1 tbsp. rice vinegar
1 tbsp. ginger, grated
2 tsp sugar, brown
3 chopped garlic cloves
3 cups of vegetables, cut into small pieces (quick-roasting varieties like asparagus, green beans, broccoli, or bell peppers)
2 tbsp. olive oil
Salt and pepper
Instructions
Preheat the oven to 390 degrees.
In a large bowl, mix the rice vinegar, soy sauce, brown sugar, garlic, and grated ginger. Combine them well.
Place the fillets on a foil tray. Leave a space of around 1 inch between the fillet pieces.
Ensure the salmon are on the tray skin down. Pour the marinade you've prepared over the salmon.
Turn over the fish so that the skin is up, then leave it to marinate for around 15-20 minutes.
While the fish marinates, place your vegetables of choice in a baking tray, regular size. Add olive oil and seasoning, mix them in, then roast them in the preheated oven for 10 minutes.
When the fish has been marinating for 15-20 minutes, turn it over again so that the skin is down on the foil tray. Brush off any excess garlic and ginger from the top of the fish.
Place the foil tray containing the fish on the baking tray, next to the roasted vegetables.
Put the baking tray back into the oven for 7 minutes, now containing the marinated salmon and roasted vegetables.
Set the grill setting on your oven to 500°F and place the baking tray under the grill for 5 minutes.
Check after 3 minutes to ensure the vegetables and fish are slightly caramelized and not burnt.
Remove from oven and serve.
Besides trying these recipes to encourage your picky eater to eat, you can also expand your menu with other foods that they'll enjoy. The Fussy Eaters' Recipe Book contains 135 quick and tasty recipes of healthy dishes for picky eaters.
It's written by Annabel Karmel, a children's food expert who has penned many other books to help parents with kids who have feeding difficulties. It has valuable tips on how to sneak vegetables and fruits in everyday dishes for your kid.
Conclusion
Good eating habits that are developed at an early age help your child to live a healthier lifestyle in the future. Therefore, if they're picky eaters, you can help them eat more healthily by opting for delicious recipes that make even their least favorite foods enjoyable.